"Do-Over"
Pope Francis issued his Encyclical on Climate on June 18, a document reserved for only the most pressing of global matters. The Pope said that protecting our planet is a moral and ethical imperative, and that a bold cultural revolution is needed to save the planet from Climate Change and Consumerism.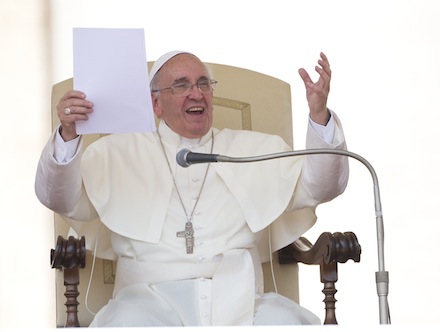 Sometimes people are surprised that as a yoga teacher I am speaking out on Climate Change and they ask what Yoga and Climate Change have to do with each other. Listen to my talk on the topic.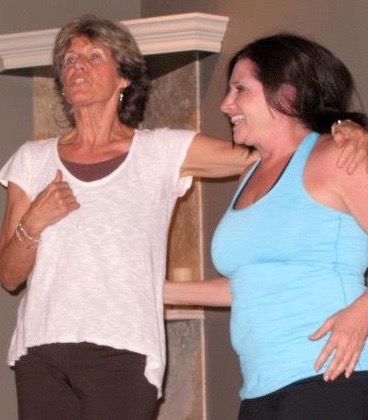 If we walk our talk that 'We are All One', that we are manifestations of the same Spirit, then it follows that we care about all life on this planet. We care about the suffering of others because at some level we are all spiritual sisters and brothers. We care about earth's animals and plants because they are part of our only home. Yoga and virtually all spiritual and religious traditions teach us to be compassionate toward all living beings and to be of service.
Join me for an opportunity to be with kindred spirits for a one-     of-a-kind Yoga &  The Climate Crisis workshop at Willow Street Yoga Center July 24-25, in which  we'll look at Climate through the lens of yoga as we reclaim our connection to the  sacred. 
It is remarkable to have the Pope speaking about Climate in such a powerful way.  And to also see so many spiritual groups speaking out, all of them addressing it  as a moral imperative in addition to the environmental necessity:
Interfaith Power & Light, a religious response to global warming, was founded by  Rev. Canon Sally Bingham.  She was one of the first religious leaders to recognize  climate as a critical moral issue. They are building momentum for a binding  agreement in Dec. in Paris for a 50% reduction in greenhouse gases by 2030. 
 The Episcopal Church, led by Bishop Katherine Jefferts Schori, is responding to  the Climate Crisis. Her voice is uniquely powerful, backed by science (she has a  doctorate in Oceanography), and her moral authority as a spiritual leader, when  she says, "

We are making war on the integrity of this planet.

" 
 Also the climate resources the

Episcopal Church

has put together are  exceptional!
As Pope Francis makes clear, addressing climate change calls for a deep transformation of our social, political, and economic systems. All of us must do our part to care for the world we share.
So what can we do?
Participate! Choose one issue related to Climate Change: get educated and get involved! Whether that takes the form of donating to a cause you believe in, talking about climate with your friends and family, calling your members of Congress, or writing letters to Congress and/or the editor of your local paper.  
There are many environmental and climate organizations that are making a difference.  Google "

climate change organizations

" to find one that speaks to you. Choose one!   
Talk it up!  Research shows only 3% of the U. S. population regularly talks about the climate situation… let's increase that number!
Support a fee on carbon! Considered by many to be THE most significant action we can take, because it establishes policies that support the result we want: less CO2 in the atmosphere. This is something we have to do together. Join with others to pressure Congress to adopt this needed and sensible legislation.  
The organization I like so much that I joined is the

Citizens Climate Lobby

(and I even went to DC June 21-23 and lobbied Congress with 800 other CCL volunteers! I'm the one in the teal blouse!)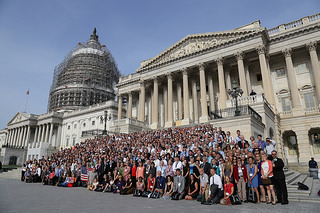 A basic CCL tenet is: "Politicians don't create political will, they respond to it". 

If this doesn't appeal to you Google Carbon Fee and choose another organization promoting a fee on carbon. 

Talk it up! Make "carbon fee" part of mainstream conversation.  
Reduce your carbon footprint. Consume less. Eat local.

Check out

Project Draw Down

 for more inspiring actions you can take. 

DRAWDOWN is the point when greenhouse gases in the atmosphere begin to decline.

Talk it up! Be the first in your group to mention  'climate change' & 'carbon fee', and the importance of reducing CO2 in the atmosphere.
Develop your compassion! Choose to look at other peoples around the world, especially poorer coastal countries who contributed very little to global warming but are reaping the destructive forces of it, like the Philippines and the Maldives. Stand up and speak out for climate justice.   
Try Meatless Mondays! Research shows that raising livestock is a major contributor to increasing greenhouse gasses and also consumes a huge amount of water, which we all know is a dwindling resource. 
Continue or increase your spiritual practices, whatever they are, that bring you peace and a sense of well-being. Take time to be in Nature and appreciate her magnificence! Exercise. Eat well. Nourish yourself daily. Practice soothing yourself naturally, so you are as balanced, centered, and steady as possible during these turbulent times of change.  
We are facing an unprecedented crisis… an emergency of epic proportions! It's time for all hands on deck! Invoke your Warrior Spirit and get involved!
Consider this: maybe this is why you are living at this historic time! Maybe it is your Life Purpose to wake up now: both to this unprecedented emergency and to the most profound opportunity you will every have to make a difference. We have the opportunity to work with others around the world on a major "Do-Over". Maybe this is the opportunity of a lifetime: the opportunity to remake the world into the kind of home we want it to be, with compassion, with true freedom, and with liberty and justice for all.